The Man Who Was Allowed to Leave
A comedy from the Faroe Islands.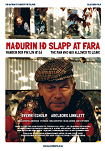 THE MAN WHO WAS ALLOWED TO LEAVE is a sad comedy from the Faroe Islands - but not that sad, though.
An elderly man one day realises that he will leave his wife for the much younger Maria.
His wife reacts stoically. She is neither angry nor unhappy but thinks he should be allowed to sow a few wild oats. She is convinced that he will come to his senses and return to her bosom.
He does - but not quite in the way she had imagined...
Starring: Sverri Egholm, Adelborg Linklett, Anneli Aeristos-Andersson, Eyð Matras, Hilmar Joensen, Nora Bærentsen, Kári D. Petersen.
Written & directed by Katrin Ottarsdóttir.
Cinematography: Boje Lomholt.
Assistant to cinematographer: Hans Petur Hansen.
Light: Niels Dose.
Sound: Jón McBirnie, Morten Degnbol.
Art design: Per Flink Basse, Edward Fuglø.
Editor: Jens Bidstrup.
Music: Heðin Meitil.
Production team: Hanne Høyberg, Hugin Eide, Henrik Ipsen, Poul Jákup Thomsen, Jane Graun.
Produced by Herremagasinet Film & TV for Danmarks Radio (Danish television), 1994.
Duration: 57 min.
© 2007 Hugin Eide | Design by Andreas Viklund